Undercover Waterwear S23-PTS-SC Junior Sunset Print Circle Swim Skirt
Introducing the Teen Sunset Circle Swim Skirt, a fashionable and versatile swimwear piece designed specifically for style-conscious teenagers. This swim skirt is the perfect addition to their beach or poolside attire, combining functionality and trendiness in one stunning garment.
Crafted with meticulous attention to detail, the Teen Sunset Circle Swim Skirt is made from high-quality materials that provide both comfort and durability. The fabric is lightweight and quick-drying, ensuring a pleasant and enjoyable swimming experience while offering long-lasting wear.
The standout feature of this swim skirt is its captivating sunset-inspired design. With a mesmerizing blend of warm and vibrant hues reminiscent of a breathtaking sunset, it creates an eye-catching visual effect that sets it apart from traditional swimwear. The vivid colors evoke a sense of joy, adventure, and youthful energy, perfectly matching the vibrant spirit of teenage years.
The circle skirt silhouette adds a touch of retro-inspired charm while maintaining a modern and flattering look. The skirt flows gracefully, providing comfortable coverage and freedom of movement in the water. Its versatile length makes it suitable for various water activities, from swimming and sunbathing to beach volleyball and more.
Whether it's a day at the beach or a pool party with friends, the Teen Sunset Circle Swim Skirt offers endless styling possibilities. Pair it with a Swim Top for a fashionable and coordinated swimwear ensemble. Add your favorite accessories like sunglasses, a wide-brimmed hat, or a beach tote to complete the look.
Embrace the beauty of sunsets and let your teenager's swimwear choices radiate with style and confidence. Invest in the Teen Sunset Circle Swim Skirt today and watch them make a splash with their fashion-forward beach or poolside looks.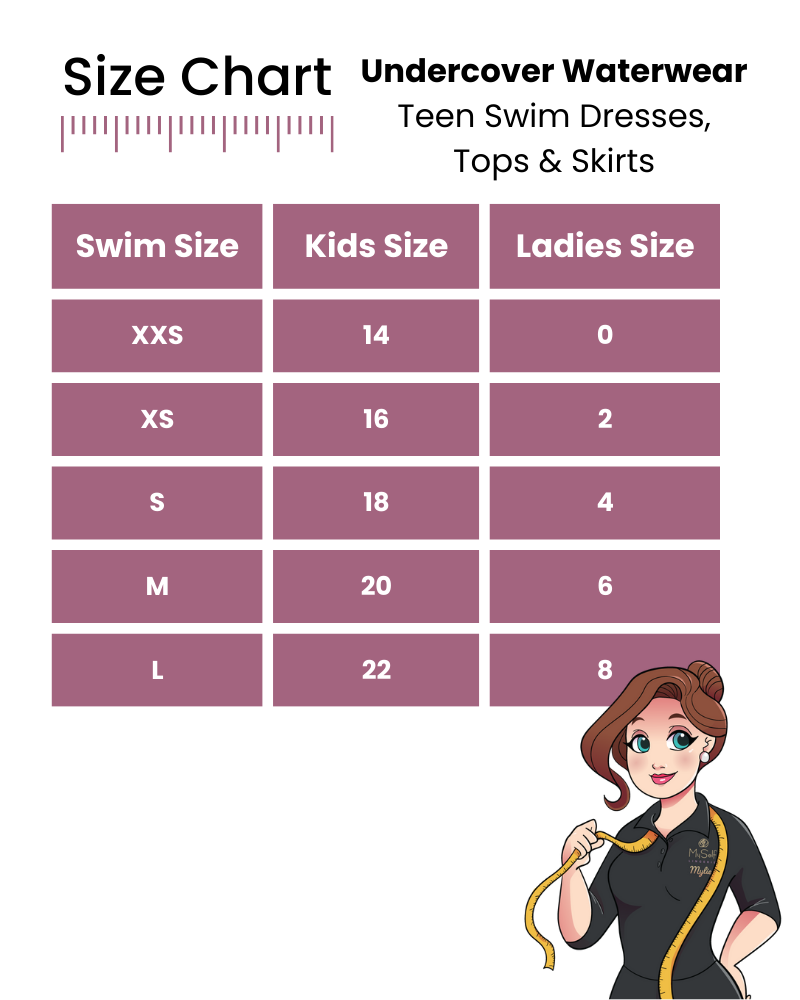 MySelf Lingerie stands behind every product we sell in terms of quality and fit. We recommend reading the care label of every garment purchased to ensure it's being washed properly. We allow returns for a full refund within 14 days of purchase.
The following items are NOT eligible for return:
Single panties (not packaged) 
Any swim item - that includes bathing suits, swim dresses, swim tops, swim skirts, swim leggings, swim shorts, swim coverups, swim terries and any other product listed under our swim collections.
Chenilles, Knit Snoods, Pre-Tieds or any Headwear Item
Nipple Shields
Jewelry
Perfumes, Colognes & Lotions
Custom ordered or altered items
Sale items
Any item that has been worn, washed, or tags removed
Items wished to be returned must be in brand new condition with tags attached. Please email us at returns@myselflingerie.com BEFORE returning an item to receive an RA #. Include your original order # and items wished to be returned. Return shipping is on customer. We don't offer exchanges. A new order needs to be placed for items needed in different sizes.